Pot plant trays
Our plant pot solid board packaging has been protecting vulnerable flowers and plants for decades. Our innovative new pot plant trays are sustainable, stackable, and can be individualized to suit your needs.
Make an enquiry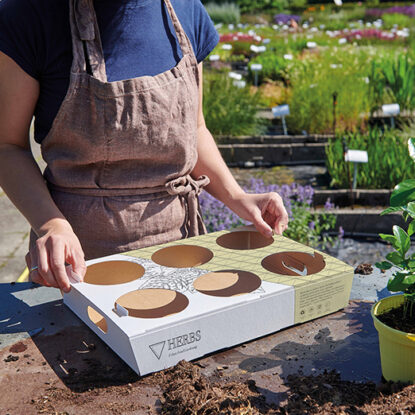 About the pot plant tray
Environmental impact research has shown that disposable cardboard plant trays are more durable than the plastic variant.
Our solid board trays protect plants all the way from the greenhouse to the consumer's home. Standard Danish trolley sizing saves space and empty racks and the waterproof coating on the base allows for watering. All of these features ensure your precious plants reach the consumer in the best possible condition.
Benefits
Sustainable and durable alternative to the disposable plastic pot plant tray;
Space saving thanks to standard sizes based on Danish trolleys;
Waterproof coatings enable watering;
Consumer and transport packaging in one.
Plant pot packaging specifications
We offer two standard versions – 6 pots and 10 pots. Both products fit Danish carts. The setup is intuitive, easy and stable. The number of pot holes can be adapted and POS flaps can be added on demand.
The combination of our leakproof base with a sleeve is a simple, price sensitive and effective solution for your first fibre based tray. The waterproof base allows for watering while maintaining the trays strength.
Interested in understanding how our Plant pot packaging solutions could help your business?