Bases & lids
Solidus offers various sizes of paper-based 4-point packaging, consisting of a base and lid, tailored to fit a large range of food and beverage products.
Make an enquiry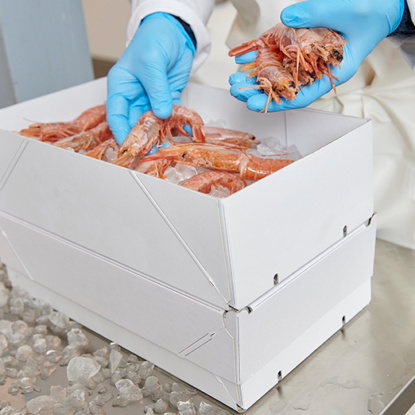 About cardboard bases and lids
Our 4-point glued boxes, consisting of a solid board base and lid, offer maximum protection for your vulnerable products during transport and can be used both in automated and manual production lines. The bottoms and lids are delivered in flat packs, keeping the transport and storage volume to a minimum. As a result, paper-based packaging is a very cost-efficient solution whilst still providing the option of high-quality printing techniques and striking presentation.
Benefits
Suitable for cold & humid environments: Your food products like fish, meat, fruit and vegetables remain fresh as it is possible to pack in refrigerated rooms containing mist and humidity.
Strong: 4-point boxes are very reliable when transported. As solid board is very strong, the boxes can be stacked high in a stable manner, which minimises product damage, for example with flower or plant packaging, or loss.
Optimum moisture control: Our 4-point boxes are closed by a lid. In combination with the pattern of holes, optimum moisture control is achieved for your fruit or vegetables contained in the box.
Space saver: The solid board packaging takes up less space in transport, storage and handling, resulting in a reduction in the total cost of packaging.
Excellent printability: Our high-quality printing possibilities provide a striking presentation for your bases and lids.
Specifications
Dimensions: We have a standard range of 4-point box dimensions available suitable for each type of fresh, frozen, or vulnerable product. The dimensions of our standard packaging portfolio are based on the most efficient pallet structure and logistical process. The bottoms and lids are delivered in flat packs, keeping the transport and storage volume to a minimum. Any size can be provided, depending on your specific requirements.
Solid board grades & liners: We offer various solid board grades, including water-resistant boards and other coatings.
Print options: Our boxes are beautiful just the way they are but we also offer standard and high-quality printing options. Select offset, flexo, or pre-print to get the best printing results. We can also print with your unique colour code and we will advise you on the optimal lamination for your printing quality requirements.
Customized: Your packaging is completely customizable with additional options like moisture-resistant pe coatings, leakproof bottoms, windows, and unique hole patterns.