Slip sheets
Slip sheets are the most cost-effective pallet replacements. The benefits range from increasing container fill-up by 10% to reducing CO2 emissions through weight savings and lowering your container usage. Because we are manufacturing our own solid board, we have the potential to tailor a slip sheet to your specific needs.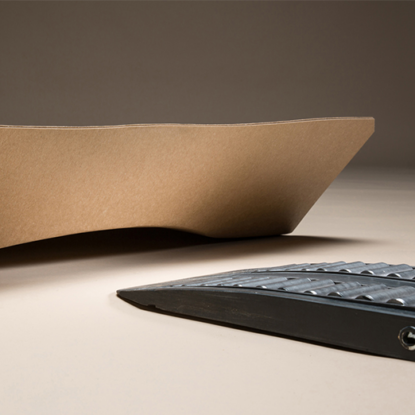 About our slip sheets
Solidus slip sheets reduce loading and unloading times, and also increase container fill up. Take a look at our slip sheet products and see how we can provide solutions to your business today.
Benefits of using slip sheets
Economic benefits

Save up to 80% on the unit cost of a wooden pallet;
Increase container fill-up by 10%;
Save up to 20% on shipping costs through weight savings;
Reduce loading and unloading time by up to 50%;
Minimal storage required (cubic volume for 500 slip sheets equivalent to 12 wooden pallets).
Green benefits

Reduce CO2 emissions through weight saving and increased container fill-up;
FSC® approved;
Made from recycled and recyclable material;
Enables a wood-free environment;
Insect-free.
Health and safety benefits

Safer than wooden pallets;
No nails, splinters or broken boards;
Reduction in forklift movements , reducing the risk of personal injury;
Unit weight reduction eliminating requirements for heavy lifting of pallets;
No lifting of goods if goods are currently being hand-loaded onto a container.
Benefits of Solidus slip sheet solutions
Solidus slip sheet solution

Reduction of man hours by replacing manual work with only 1 forklift operator;
Substitution of pallets for PE-lined solid board slip sheets.
Customer benefits

Saving on transportation costs;
Saving on labour costs;
Operating in a wood-free environment;
Increase in container fill;
Reduction of carbon footprint.