Partitions
We offer solid board solutions for transportation and storage protection like partitions and other inner packaging products. We produce inner packaging, such as partitions, separators and special packaging for various products and industries. This diversity is one of the reasons we are leaders in protective packaging.
Learn more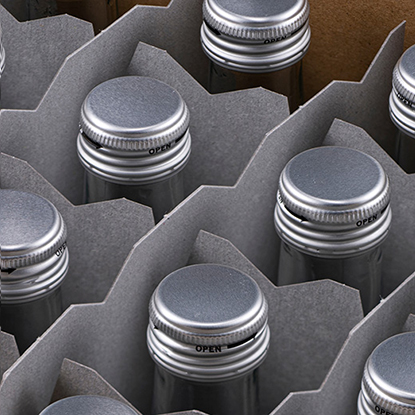 About our partitions
Our location Solidus Mölle GmbH operates internationally and is one of the leading companies in the individual inner packaging market. Technically advanced machines and quality-conscious employees ensure the best possible inner packaging products and delivery requirements. We provide a variety of protective packaging solutions and products for multiple industries such as hygiene, pharma, electronics, automotive & beverages.
Benefits
The right protection for your product;
Customised solutions;
Possibilities across various industries (automotive, beverage, chemical, cosmetics, electrical, food, glass, hygiene, metal, packaging, pharmaceutical).
Specifications
Dimensions starting from height 15 mm up to 480 mm (higher on request), strips in the length from 35 up to 1.200 mm
Solid board partitions possible from 275 – 800 g/m²
Coated or non-coated possibilities
Made from recovered paper
In line with food safety measures Specific customer needs possible upon request