Paper-based packaging being used more often to replace plastic packaging for soft fruit
The demand for paper based packaging for soft fruit is on the rise. Ecological considerations play an increasingly important role in shaping the packaging market. The social responsibility of retail chains is growing, but so is the awareness of consumers themselves. They more often choose environmentally friendly packaging that can be reused or recycled.
Solid board packaging for soft fruit, made by Solidus, is a natural, fully recyclable packaging material made from a renewable source. Thanks to its excellent recycling possibilities, solid board is an ideal packaging material for a circular economy.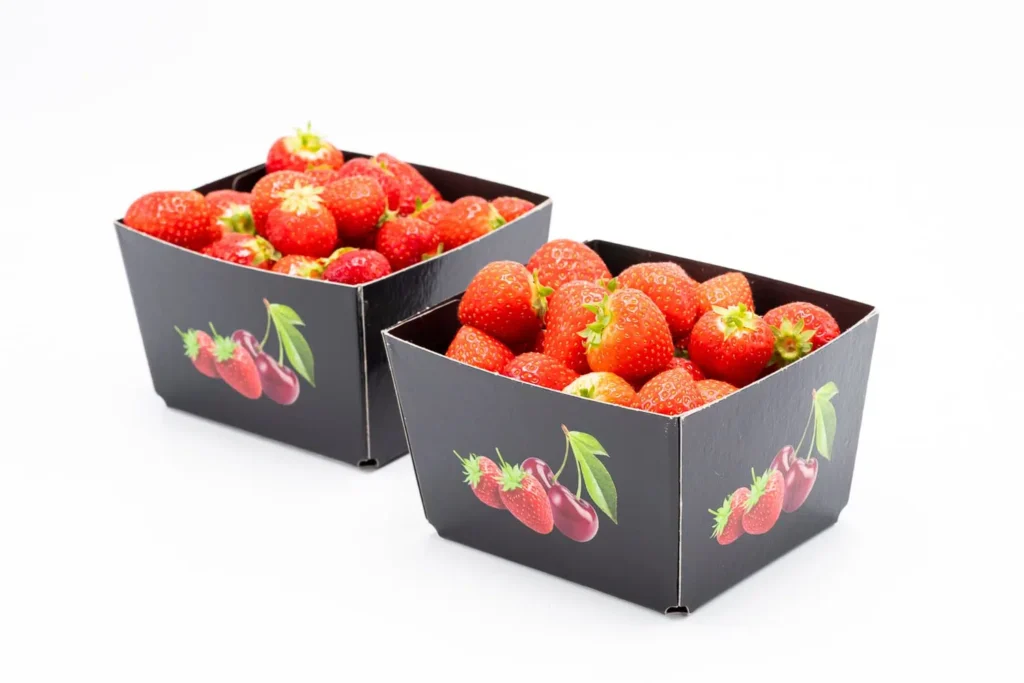 Solid board punnets for soft fruit
Solidus manufactures punnets made from solid board that offer a 100% recyclable and natural alternative to plastic, polystyrene and wooden equivalents. Solid board is a 100% recyclable packaging material – made from the fibres of recycled paper and cardboard. This not only avoids the felling of new trees, but also ensures that the packaging is easily recyclable at the curbside for consumers at its end of life.
Our solid board punnets are not only environmentally friendlier, they also offer the possibility for extra branding. Our punnets add value to your soft fruit and help you sell more. Our high-quality print will ensure that you will stand out from your competition at point of sale. The shape of the punnet also allows for a flexible shelf position, making in-store merchandising of the produce easier and more adaptable to the layout of supermarkets.
Solid board trays for soft fruit
The fastest growing fruit packaging market is for plastic tray substitutes. Solidus' solid board trays are a popular and sustainable alternative with soft fruit packers. They require the stability, strength and convenience of the stackable corners, combined with the water resistant nature of solid board packaging.
For field packaging, Solidus can supply water resistant solid board trays. In that way, the user can pack wet produce directly in the box. This type of packaging for soft fruit is normally folded and delivered pre-glued. In that way, it can be set up quickly and easily by the packers. With this method, the products can be cooled directly in the package if necessary.
If the packing is done in a pack house, the same type of material can be used if there is a need for a high degree of water resistance. If the need for water resistant material is not required, we can supply standard solid board for use with pre-packed produce.
These soft fruit trays can be supplied hand erect, pre-glued or machine erect. We look together with you for the most suitable packaging type for your soft fruit product bearing in mind volume, logistics and end user requirements.
All-in-one soft fruit packaging solution
By combining solid board trays and punnets, Solidus achieved an all-in-one soft fruit packaging solution. This solution will not only reduce the use of plastic packaging, but will also optimise the pack line. This ensures efficiencies are gained throughout your entire supply chain.
Our punnets are available in combination with a larger fibre-based tray (various sizes possible) containing 6,8 or 12 punnets each. All packs are designed to meet the physical requirements of the supply chain to ensure your soft fruit arrives in optimal condition.
The all-in-one soft fruit packaging solution has been developed to hold soft fruit varieties, but this all-in-one solution could be expanded to other fruit and vegetable varieties as well.