Water resistant Vermak® trays of Solidus protect your food product
Solidus offers the unique Vermak® tray, suitable for a large range of food products. 
Easy hand foldable construction
Our Vermak® tray is a pop up tray, extremely strong and available in a variety of sizes to suit your requirements. It is a hand foldable tray with an innovative corner construction. We deliver this tray flat folded to you which saves space in your warehouse while being stocked. You don't need erecting machines and erecting is possible at every location.
Water resistant
The tray is available in water resistant materials, suitable for washing and reusing again and again. Next to that, you can store products outside, like fruit and vegetables, while giving them maximum protection. We have the possibility to provide our solid board with a moisture protective PE layer, ensuring moisture does not influence the integral strength of the boxes. This makes them suitable for humid and cooling conditions.
Maximum protection
Vulnerable products such as fruit and vegetables require additional protection. Each product has its own logistical process. Our smart designs (the special corners of the Vermak® tray are pushed inwards for maximum strength) protect your products, while the printing options give your product a distinctive look and feel. Our Vermak® tray is the perfect packaging solution to get essential food products to consumers' homes at every location.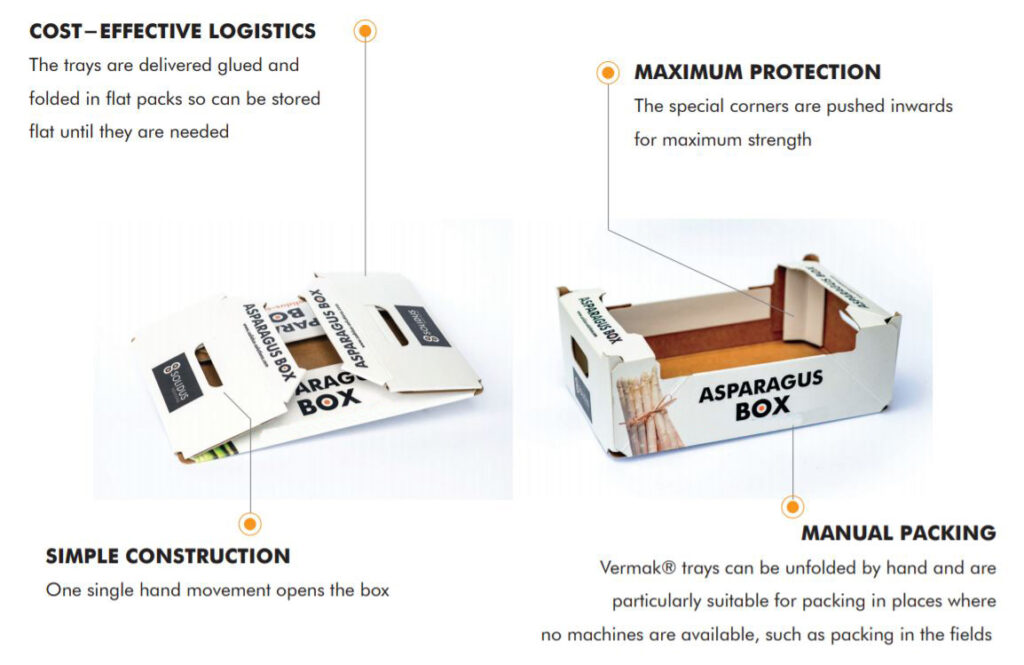 Want to find out more about our Vermak® trays?