All Weather Display
If you're looking for outdoor display stands, our 'All Weather Display Board' doesn't compromise, offering high durability in all weather conditions. Owing to their supreme moisture-resistance, the quality displays we create can be enjoyed time and again, come rain or shine.
Make an enquiry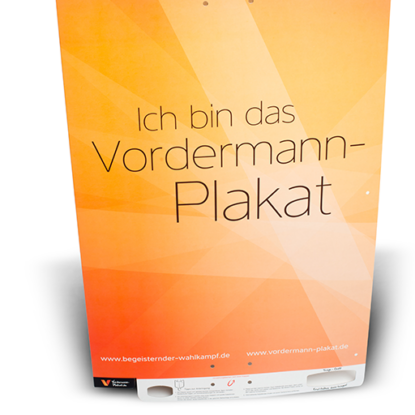 Benefits of All weather display
Exterior use – used for highly effective retail displays and point-of-sale (POS) material;
Ideal substitute for applications where plastics would have been the natural first choice;
Unique water resistant display board;
100% recyclable;
Environmentally friendly;
Excellent print surface.
Vordermann All weather display case
By using our Packline (white PE/brown PE Sapino 750 gsm), we were able to develop a solution for "the Vordermann placard" which is environmentally friendly as well as being quicker to assemble, dispose and above all cheaper than existing placards;
The Vordermann placard consists of at least 90% recycled wood fibres, and its use therefore largely forms part of a closed-loop materials life cycle;
Vordermann placards are printed by the offset method – this enables up to 18,000 placards an hour to be produced on one printing machine. It can be produced using a cheaper and faster printing process. This also means that it saves space and is cheaper to ship;
Vordermann placards have already proved their worth hundreds of thousands of times over in elections in Germany, Luxembourg and Austria;
Vordermann placards can be classified on an EU-wide basis to grades 2.10 or 2.11 of the "European List of Standard Grades of Recovered Paper and Board" according to EN 643, and consequently disposed of as waste paper.
Interested in understanding how All Weather Display could help your business?