Solidus' packaging protects food supply during COVID-19 crisis
13 May 2020 – Solidus, leading supplier of solid board packaging, is constantly monitoring the pandemic situation around COVID-19. Since the COVID-19 outbreak, Solidus has been taking maximum precautions to ensure the health, safety and well-being of its employees, customers and partners. Simultaneously the company takes all necessary steps to continue its business. Currently, all of Solidus' production plants remain operational with limited impact to customers throughout the supply chain.
Unique UK and Ireland Service Offering
Despite the COVID-19 crisis, Solidus has a unique solid board offering to the UK and Ireland market place with two production facilities in Corby and Skipton. Next to that Solidus has warehousing and distribution facilities in Newry, Ireland. In that way, the company can offer a cost effective, flexible and reliable service anywhere.
A team of External Account Managers are also located throughout the UK and Ireland. They will be able to meet customers face to face to discuss new opportunities and optimizing existing packaging as soon as the lockdown is over.
Together with an experienced team of Internal Sales and Technical experts we are on hand immediately to help you sell more.
The Most Secure Solid Board Supplier in the UK and Ireland
Five Solidus Board Mills located throughout the Netherlands and Spain supply raw material to the converting sites in Corby and Skipton. This makes Solidus the only fully integrated solid board manufacturer on these shores.
In addition six other converting locations in The Netherlands, Belgium, Spain and France back up the UK converting locations. The company therefore guarantees security of packaging supply in these testing times and beyond.
Packaging Innovation
In times of the COVID-19 crisis, Solidus' mission has never been clearer: keep on providing the best quality packaging products to its customers. Solid board is the perfect choice to guarantee maximum protection. It is also the best option to use for meat, poultry and fish markets since products freeze much faster. Next to that, solid board packaging is fully recyclable.
Despite the current crisis, Solidus works hard to develop products which help solve customers' challenges every day. The below are specific examples, and we would love to discuss further with customers –
Solidus' fast freezing fish packaging
Vermak® – a pop up tray, extremely strong, available in a variety of sizes to suit your requirements.  Also, available in water resistant materials suitable for washing and reusing again, or for storing products outside and giving maximum protection. The perfect product to get essential products to the homes of the UK public.
Solidus' water resistant vermak
Skin Pack – a fully recyclable, water resistant packaging for vacuum packed products like fish and meat. It is an excellent alternative for plastic and can be presented straight on to shelf in store.
Flower Pot Tray – an alternative to plastic which can be branded with high quality print, and also made water resistant to fit your requirements.
Punnets – a solid board substitute to plastic and wooden alternatives to make sure your strawberries, cherries and other fruits and vegetables stand out from the crowd.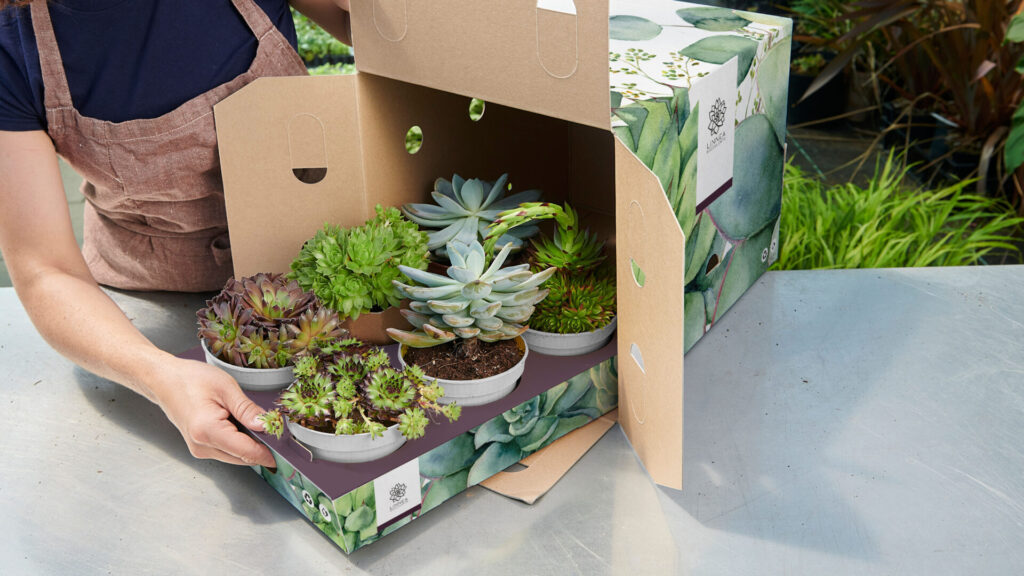 Solidus' sustainable flower pot tray and shipping box