Lead Operator KBA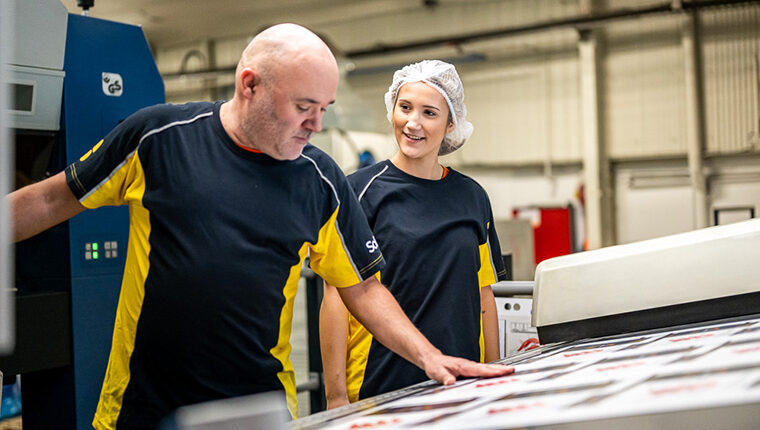 Location Skipton (United Kingdom)
Every Print Perfectly Produced
The Lead KBA printing machine operator is to Fully lead and run the KBA printing process to the highest standard, to inspect and manage the printing machine & printing Operators to their best ability in order to guarantee the production of high quality products.
To understand various printing job needs by learning different job types, assessing needs for big format printing and organizing job sequence, understands all aspects of the KBA machine with the knowledge to fine tune and maximise performance whilst maintaining the highest quality.
Duties will also include arranging printing materials by loading Board sheets and adjusting for size, loading and setting inking mechanism.
In order to ensure uniformity in all printed materials, these operators establish printing quality by adjusting ink distribution, registration, level of speed and machine temperature.
To maintain production quality by inspecting all produced materials carefully to identify any errors that might have occurred during production and correct them to prevent client dissatisfaction.
Machine operators who do printing work are responsible for ensuring that equipment are always in good shape by taking preventive maintenance measures and following manufacturers maintenance tips.
When malfunctioning, what they do is take the printing equipment for repairs and inquire about new maintenance and operation techniques.
The Lead KBA Operator will inspect all printing equipment and any other machinery they are to operate and materials to ensure that they are not in shortage and will place an order for new ones when they are not adequate.
What are you going to do
Lead & Operate our KBA Offset Print machine running solid board for food packaging companies to specified quality standards.
Mix Inks using our automated ink machine to job order specification.
Make sure to consume left over mixed ink before making new batches.
Ensure printed quality is of the highest standard of accuracy, registration and clarity.
Ensure machine is cleaned down between orders and at the end of each day this includes rollers, heads, ink buckets etc…
Monitor and fine tune machine running speeds to make sure efficiencies are maintained consistently to achieve targets.
Coordinate with the Design team on any issues raised or potential design changes to artwork.
Report to Supply chain and design team with any tooling damages or upgrades / replacements required.
Report to Production Manager and work to achieve all KPI targets, this includes Quality & Waste, Speeds, Outputs, Efficiencies & OEE.
Weekly routine maintenance cleaning down machine to maintain high BRC standards, pulling out all the rollers working with engineering team to grease and replace any worn parts.
Learn & Operate other process lines & Machines such as Die cutters, Folder Gluers and Laminators when requested as part of the companies training and development plans.
Our expectations
Essential Requirements
Excellent attention to detail a must.
Printing Experience essential.
Leadership skills to lead the KBA machine.
A team player – prepared to help others.
Exhibit good knowledge of colour combination.
Able to use pantone colour charts.
Quality focused to produce top quality board.
KPI focused to deliver required outputs for customers
Desirable Requirements
Experience within the packaging industry
Machine operating experience.
Forklift driving advantageous due to multi skilled work available.
Our offer
As Lead Operator KBA at Solidus, we offer you a challenging position within a dynamic and ambitious international organization that is constantly changing. We offer you an attractive benefits package. And last but not least, a pleasant working environment in which you work together with enthusiastic and driven colleagues. The organization has a very flat hierarchies and short decision-making paths, you will have direct communication with UKBU and sales directors, BU managers, Vendors & Suppliers, Operational & Commercial Supply Chain Colleagues – all levels and Colleagues across the UK business unit as required on a project by project basis.
Solidus
We are Solidus. Involved with our environment since 1870. With pride in our history, we make circular packaging and sustainable solid board solutions for customers all over the world. In the past from straw, now from recycled paper. Here you get the possibilities. To learn, to develop, to make a difference. We do this with 1500 colleagues throughout Europe. With the passion for technology and driven by progress. Together we contribute to less waste and a cleaner world. An international player and still always close by. Full of innovation, full of new ideas, full of opportunities for everyone. So whatever your talent or ambition is, grow the way you want. Let's grow together!
Curious about more Solidus? View our new website and company video.
Interested?
Does the position appeal to you and do you want to contribute to the success of Solidus? Then we would like to hear from you. To apply please contact our recruiter Laura Dyson, mobile number: 07958222577 or send a cover letter and CV to laura.dyson@solidus.com.
Commercial acquisition as a result of this vacancy is not appreciated.